This section is currently being changed and edited. Please help the Blue Bomber Encyclopedia.
Previous Arc: Let the Games Begin! ←—→ Next Arc: TBA
Times Keeps Slipping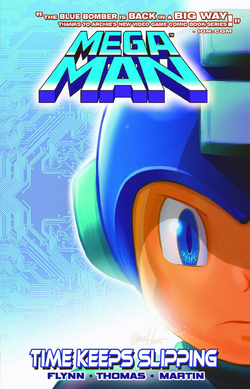 Publication information
Publisher:
Archie
Released:
8/24/2011 - 11/23/11
Creative Team
Writer(s):
Ian Flynn

Time Keeps Slipping is the second story arc of the Mega Man comic series by Archie Comics. It follows up on the events from the first arc, "Let the Games Begin!".
Part Three
Edit
Part Four
Edit